The Fixturlaser Dials Kit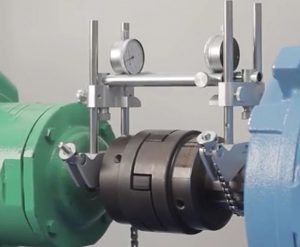 The Fixturlaser Dials Kit is designed to perform reverse rim shaft alignments . Two dial indicators are included. The two V-Brackets come assembled with chains that will allow mounting on shafts up to 6 inches in diameter, 18 inches with optional extension chains.
The kit, shipped in a durable fitted case, includes 3 pairs of dial indicator rods in 3 lengths to maximize the mounting options.  The aluminum rods are hollow to minimize sag. Android or iOS phones or tablets are the perfect match for the Fixturlaser Dials Kit.  When loaded with the free Fixturlaser Dials App, you'll be able to perform alignments using the Verti-Zontal method and leave the math to the app.
How it works
If you want to buy a kit
The Fixturlaser Dial Kit is available in both a metric version and an inch version (different dial indicators).
Currently the Fixturlaser Dial Kit is available in USA and EU, more countries to follow soon.